Thanks to so many of you, Spirit Airlines and Lufthansa Technik, The Puerto Rico Care-Lift,distributed over $225,000 worth of hurricane relief supplies to the people of the battered island of Puerto Rico, with the last of the supplies being delivered last week.
You made a huge difference in giving these suffering Americans hope and sustaining life.
We feel sheepish appealing to you again. But with the holidays around the corner, the Kids of Puerto Rico who have lost so much and have little to look forward to, need us. We have an opportunity too good to pass up.
INTRODUCING PHASE 2 OF THE CARE-LIFT: OPERATION PUERTO RICO HOLIDAY GIFT-LIFT
---
In association with Airways Magazine and the Caleb and Calder Sloan's Awesome Foundation. Our first of our three flight leaves in less than 10 days.
We know you have many obligations and charities soliciting you during the holidays. But can you please consider adding Puerto Rico Holiday Gift to your holiday giving list?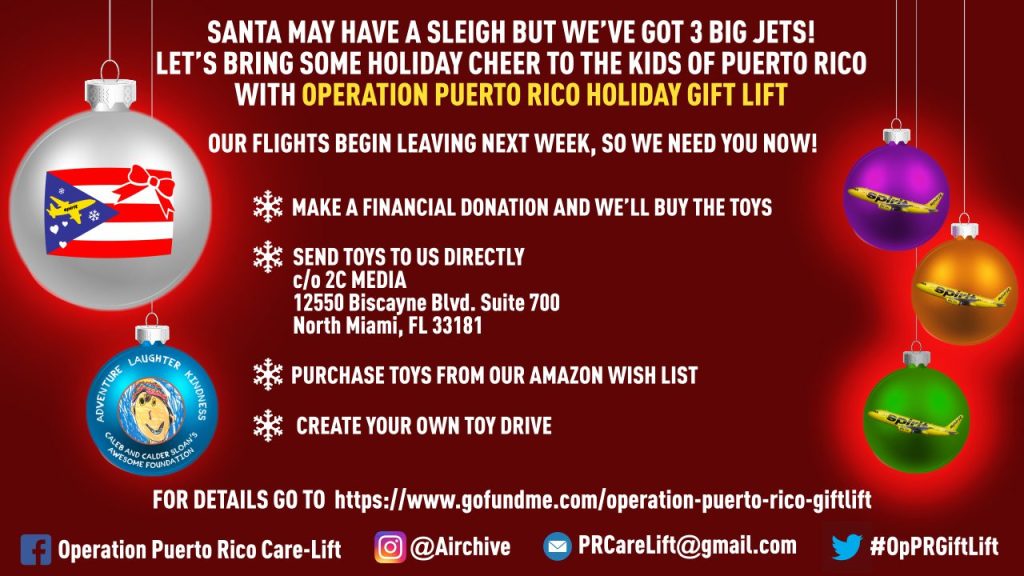 Please click our GoFundMe page for the multiple options on how to participate:
– Donate cash or gift cards
– Send toys directly to us at 2C Media for transport to Puerto Rico
– Donate toys via our Amazon Wish List
– Create your own toy drive or connect us with a toy drive!
– Spread the word to colleagues, friends, and family via social media, emails, public relations, and promotion. #OpPRGiftLift
– Introduces us to any corporate connections you might have such as toy manufacturers, retailers, etc.
Every little bit helps!
Thank You and Happy Holidays,
Chris, Carla, Lara, Airways Magazine, and the #OpPRGiftLift Team.